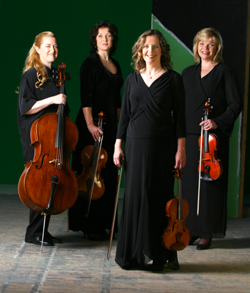 Let us take you on a tour of who we are, the music we make and the inspiration behind it all. As we embrace our second decade together, we'd love to share our experiences so far.

Most people ask us "How did you get your name?" This takes us back to 1997 when we found each other in Halifax, Nova Scotia and knew immediately that together, we could give our audiences something very special. At the time, we had an association with the Vancouver, British Columbia music series called "The Little Chamber Music Series That Could". This title was inspired by the children's book "The Little Engine That Could" by Watty Piper. It seemed only right that we should borrow that Blue Engine's determination and of course, her name.

As for our musical inspiration, we are always interpreters of the classical form and we love this music. But we also yearn for styles and voices outside of the classical and so, whilst staying true to our classical roots, we also seek out the wild and unusual! Check out our repertoire list, our collaborations, our broadcasts – it's definitely a scenic route!

Find out who we are. We're four women who have a lifetime of music performance behind us, giving our audiences the very best every show. Read the reviews and you'll see what people are saying about us.

Listen to some of our performances. You will be moved by our diversity and breadth.

Thanks for visiting the Blue Engine String Quartet... We Thought We Could and We Did!